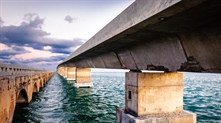 Florida's waterways present unique hazards to many drivers in the state and far too often, motorists are crashing through guardrails and landing in the water.
One such recent accident in Broward County proved fatal for a 20-year-old woman. According to an Orlando Sun-Sentinel report this week, authorities at Dania Beach recovered the woman's body from a canal on Tuesday (Nov. 19) and pronounced her dead.
Police believe the woman crashed through a guardrail along Old Griffin Road and went into the canal. Her car was found 100 feet away from where she left the road and authorities are now trying to determine what caused the woman to lose control of her vehicle and end up in the water, according to The Sun-Sentinel.
The accident occurred in the middle of the day, at about 1 p.m., but it was not until after 4 p.m. that afternoon that the car was eventually recovered from the canal waters. State legislators told The Sun-Sentinel that these types of accidents are too common in Florida and many motorists reportedly drive through barriers designed to keep vehicles out of the water.
It is not known what type of barrier protected Old Griffin Road from the Dania Beach canal but one representative in Florida's House told The Sun-Sentinel that legislation passed a few years ago helped to get cable guardrails placed along the Florida Turnpike to help prevent similar accidents from happening.