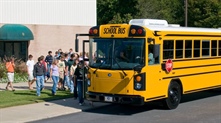 On Ronald Reagan Boulevard, near the town of Sanford, Fla., two children died late last week when a school bus collided with the car they were riding in.
According to an Orlando Sentinel report, the two children were aged 11 and 7. The driver of the car hit by the school bus was seriously injured but is expected to recover.
An update from WFTV.com identified the two deceased siblings and noted that the driver of the car was the mother of the two children. The 11-year-old was reportedly killed in the crash; the 7-year-old, who had been sitting in the backseat, died after being transported to a local hospital.
There were three students on the bus. They and the driver were not injured in the accident. The Orlando Sentinel reports that the crash happened at about 4:30 p.m. last Friday.
The bus, which was operated by Seminole County, was transporting students from an "alternative school" in the area. The bus crashed into the passenger side of the car carrying the two children and their mother.
Authorities tell WFTV.com that the car turned into the path of the bus, and the bus collided with the passenger side of the vehicle.