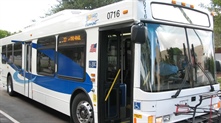 More than 30 people near Pompano Beach, Fla., were injured and treated at local hospitals after a tow truck rear-ended a Broward County Transit bus late last week.
According to The Orlando Sun-Sentinel, the accident happened just before rush hour last Thursday afternoon. The driver of the tow truck and Broward County Transit bus were both among the injured. One person aboard the bus was seriously injured by everyone involved in the accident was taken to a local hospital for treatment of their injuries.
The accident happened along W. Sample Rd. in Pompano Beach. After the crack-up, three lanes of traffic were closed for several hours, causing congestion through rush hour on Thursday last week. Authorities are still investigating what exactly caused the tow truck to rear-end the public bus, according to The Sun-Sentinel.
Bus accidents are not uncommon across the U.S. and every year hundreds of people are seriously injured or killed while riding a bus. Bus riders are at risk of being injured for a variety of reasons. In some cases, bus riders have been injured due to errors on the part of the bus company or bus driver.
Based on our previous reports, buses involved in accidents many times have failed safety inspections or checkered safety records. Buses often travel longer distances and that can create fatigue on drivers and increase the risk of an accident happening.