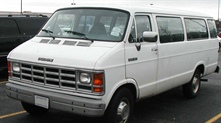 A triple-fatal rollover accident involving a 15-passenger van only underscores the dangers posed by these vehicles.
According to a report from WBBH-TV in Florida, a 15-passenger van was involved in a rollover accident last weekend. There were 16 people aboard the large van at the time of the accident, however. A tire blew out on the van and that caused the vehicle to rollover onto its roof on Interstate 75 near Estero, Fla.
Three people on board that van died in the accident. A dozen others were injured. The driver of the van said that she remembered feeling the van shaking just before it flipped onto its roof. The 15-passenger van suffered a tire blowout as the driver attempted to slow down and pull to the side of the road, according to WBBH-TV.
We've reported on the dangers of 15-passenger vans for several years. They are among the most dangerous passenger vehicles on the road because they are more susceptible to rollover accidents compared to other vehicles. Still, despite the dangers often associated with 15-passenger vans, they remain a popular choice for schools, churches, and other social organizations for transporting members to and from events.
In many accidents involving 15-passenger vans that we've recounted, the vehicles are typically overloaded, as was the van involved in this accident in Florida, carrying one too many passengers. In fact, the National Highway Traffic Safety Administration (NHTSA) warned about the use of 15-passenger vans as recently as 2010, after the vehicles were involved in several fatal accidents.
The NHTSA specifically targeted organizations most likely to use 15-passenger vans when it warned about the risks associated with the vehicles. Our recent reports also note recent federal safety data that reveals having more than 10 people in a 15-passenger van greatly increases the risk of a rollover accident.