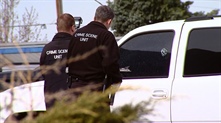 A 4-year-old girl from the Tampa area was killed this week after an SUV driven by the girl's mother ran her over.
According to The Tampa Bay Times, the girl was hit at about 4 p.m. on Wednesday. Reports from authorities indicate that the girl got out of the SUV after her mother had stopped in front of their house. She stopped because her husband had alerted her to something and they stopped to talk.
It was during this conversation between the parents that the 4-year-old got out of the vehicle and walked to the front of it. As the mother pulled away, she was unaware that her daughter was in front of the SUV, a Pontiac Aztec, and struck the child, according to The Tampa Bay Times.
After the girl was hit, the father and an eyewitness to the accident alerted the mother behind the wheel, who then got out of the vehicle, rushed to her child and picked her up from the ground until emergency crews arrived at the scene.
The girl was rushed to a local hospital where she was pronounced dead.