One woman is dead and another in critical condition following an accident on the Sawgrass Expressway in which they were struck by a car going the wrong way.
According to a report from The Orlando Sun-Sentinel, the accident happened early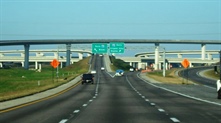 Sunday morning near University Drive on the highway. The two women were in the same vehicle at the time when they were struck by a car going the wrong way on the Sawgrass Expressway. The women were headed west on the road.
Both women were 21. The passenger sustained fatal injuries while the driver remained in critical condition, according to The Sun-Sentinel's report at the time. The driver of the car which was going the wrong way, a 20-year-old woman, was also taken to a local hospital and was reported to be in serious condition.
The westbound lanes of the Sawgrass Expressway were closed through the overnight hours on Sunday as emergency crews worked to clear the scene. The Sun-Sentinel reports that the Florida Highway Patrol is looking into alcohol's potential role in the accident.