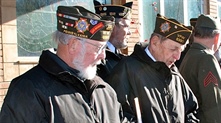 In an effort to prevent the arrival of so-called "pension poachers," the owner of several Florida nursing homes has barred from his facilities any organizations designed to help military veterans gain access to benefits.
According to a Pensacola News-Journal report, University Pines Independent Living retirement center recently prohibited any representatives from holding workshops at the facility if they represented companies pledged to helping vets get their rightful benefits.
The head of Holiday Retirement, an Oregon company that owns University Pines and other Florida nursing homes, said that, too often, the previous policy of allowing these outfits onto the property to make their pitches to military veterans ended up attracting "pension poachers," a term coined to denote an allegedly fraudulent company whose representatives end up bilking veterans out of expected pension benefits by convincing them to sign for phony services or disguised investment schemes, The News-Journal reports.
The head of Holiday Retirement, while acknowledging that not all companies with this objective are bad and actively working to deceive aging military veterans, also noted that the blanket policy was conceived because, good or bad, "they all smell the same," in the words he told The News-Journal.
What Are Pension Poachers?
The Federal Trade Commission described "pension poaching" as: "unscrupulous brokers (trying) to persuade veterans to transfer their assets to a trust or to invest in insurance products so they can qualify for Aid and Attendance benefits."
Holiday Retirement said its decision to ban potential "poachers" from hosting seminars at its nursing homes stems from the fact that it was itself duped by this very process. The company told The News-Journal that what turned out to be one of these "pension poaching" outfits had facilitated the move of several residents into one of Holiday Retirement's facilities, telling the nursing home operator that these people were veterans poised to receive Aid and Attendance benefits – which never happened.