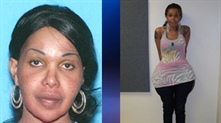 A Florida nurse who has gained some notoriety as "Toxic Tush" (her name is Oneal Ron Morris) will spend a year in jail after pleading guilty to practicing medicine without a license.
Morris is charged with illegally injecting her patients with a substance that she told them would enhance their appearance, making them more appealing. The injections were intended for her patients' rear-ends, according to the New York Daily News.
Late last week, Morris accepted a plea deal from Miami-Dade prosecutors under which she will spend 366 days in prison for practicing medicine illegally. However, she still faces a manslaughter charge in Broward County because one of her patients died after receiving an illegal injection. The Daily News reports that Morris injected her patients with substances such as super glue and Fix-A-Flat, which is generally used to fix flat tires on vehicles.
The charges in Miami-Dade County actually stem from two of Morris's patients, both of whom had to check into local hospitals after getting their illegal injection. Those victims of her practice developed painful wounds that wouldn't heal, according to the Daily News report.
Morris's former assistant, who provided a place where the nurse could conduct her illegal injections business, had previously pled guilty to his connection with the practice.
Charges pending against Morris in Broward County, Fla., allege that the Toxic Tush injected one patient with a silicone product that she had purchased at Home Depot. Eventually, this patient died after being injected with the substance.