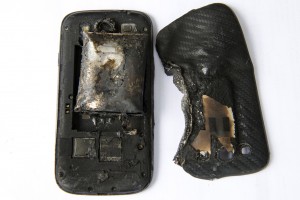 A Florida woman was set on fire when a cell phone battery exploded at a Hialeah gym, CBS Miami reports. Jackie Marinas says she was working out at Planet Fitness when she became the victim of a "freak accident". "I was going to get some water, I heard the boom," Marinas told CBS Miami. "I thought it was a firecracker. It sounded kind of loud but then I felt the heat in my arm. Somebody yelled your hair is on fire."
Gym members said that a battery fell out of another patron's pocket, causing debris to fly and covering Marinas' face and hair with lithium. She told CBS4 News on Wednesday, "My face started irritating (sic) because of the chemicals, the lithium. I had it all over my hair my face," According to police, the exploded battery came from a Samsung Galaxy I-9300.
At the time, it was unclear what had caused the commotion and all the gym members were evacuated; Miami-Dade's Bomb Squad was called to investigate the situation. Marinas recalled her frightened feelings, stating "It was really scary with everything that's happening. Yesterday being the one year anniversary of the Boston bombing it was a little bit freaky,"
Nino Meija, another gym patron, told CBS that he helped stomp out the flames. "All I hear is a loud pop," Mejia said. "I turned around and there's screams. I look and I see fire out of nowhere starting from the ground."
Marinas was taken to the hospital, where doctors wanted to make sure that the chemicals she breathed in did not get into her lungs. It was very scary because I didn't know what the real situation was. I felt better afterward knowing it was not a homemade device," she said. "It was just a freak accident." Even so, consumer safety advocates say that exploding batteries are becoming more common.
"I used to have a spare battery and I would overcharge my phone. Imagine if that would have happened to me. Kind of freaks me out," Alyssa Sagastume said to CBS Miami.