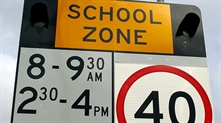 A 6-year-old Miami girl walking to school with her grandmother was killed this week by a vehicle driven by a teenager who may have been speeding through a school zone.
According to The Miami Herald, the accident happened at Northeast 213th Place on Monday morning. The young girl was being escorted to school by her grandmother that day and the girl was set to go on a field trip when she was struck by the moving vehicle.
Authorities say that a 16-year-old girl driving in a white Mercedes struck the girl and her grandmother, hit a sign, and then crashed into the back of another vehicle in the accident. The girl was attended to at the scene by eyewitnesses and neighbors. She was later pronounced dead. The grandmother is recovering from serious injuries at a nearby hospital.
Neighbors told The Miami Herald that the area where the accident occurred is notorious for speeding traffic, despite it being marked as a 30 mile-per-hour speed limit and a school zone. Students, especially, are seen driving at high rates of speed through the neighborhood. They routinely take advantage of local public parking spaces close to a nearby high school they attend.
The grandmother and young girl were crossing the street when they were suddenly hit by the white Mercedes. The driver of that car has not been charged with a crime but police continue to gather details on the incident, according to The Miami Herald.
Police will continue to investigate the incident in the coming weeks to determine, for a fact, if speeding led to the accident or perhaps there was some other form of distraction that caused the teen driver to hit the grandmother and her granddaughter, The Miami Herald reports.