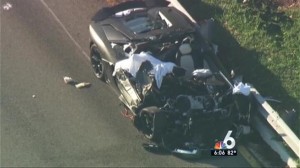 One man was killed and two others were injured in a violent crash on the MacArthur Causeway in Miami Beach Thursday morning.
The accident occurred just before 3 a.m. Thursday, when a Lamborghini collided with a Chevy Suburban in the westbound lanes of the causeway at Fountain Street, NBC 6 (Miami) reports.  Bobby Hernandez, spokesperson for the Miami Beach Police said witnesses reported seeing a Lamborghini driving in excess of 100 mph when it collided with an SUV stopped at a light. Witness say the Lamborghini traveled another 100 yards after the collision, and "the damage on the vehicles is pretty severe," according to Hernandez. The westbound lanes of the causeway were closed for several hours so police could investigate the incident and crews could clear up the extensive damage. 
Malcolm Lloyd, founder and CEO of Old Nassau Imports, the passenger in the Lamborghini, died at the scene. His brother-in-law, Andres Esteban Toro was driving the Lamborghini, police said. Toro and the SUV's driver, Raul Alfonzo, were both taken to Ryder Trauma Center, NBC 6 reports. As of Thursday afternoon, both drivers were still at Ryder Trauma Center, but Hernandez said both are expected to survive.
Police say speed is a factor in the crash and they are awaiting the results of alcohol and drug tests. Late Thursday night, Toro was charged with reckless vehicular homicide. Former University of Miami football player JoJo Nicolas died from injuries in a crash in the same spot as Thursday's crash.  Nicolas's car crashed into the back of a tractor-trailer, according to NBC 6.