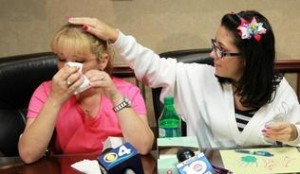 The mother of a ninth grade student at a Florida charter school has filed a lawsuit against the school and Mega Party Events after her daughter allegedly suffered a serious brain injury during a sumo wrestling game on Spirit Day.
The incident occurred at Mater Academy Charter School in Hialeah Gardens. The lawsuit claims that Celaida Lissabet was "improperly fitted in the wrestling outfit, and wasn't properly supervised during the match on Oct. 4, 2013," local10.com reported. The family claims that Celaida suffered the head injuries because the company and the school failed to ensure that the helmet fit properly during the event, which took place last October.
Mega Party Events supplied the inflatable suits, which the lawsuit claims are designed for use in "violent recreational sumo wrestling games," the Miami Herald reported.
The lawsuit alleges the girl's head smacked onto the hard ground multiple times during the sumo event before she was rushed to the emergency room.
The brain injuries have left the ninth-grader unable to adequately communicate, and have caused her to demonstrate child-like behavior and suffer from anxiety issues, the lawsuit alleges. Lissabet has not been able to return to school since she suffered the head injuries, local10.com reported.
The owner of Mega Party Events, Adrian De La Rosa, told Local 10 his company's insurance company was investigating the event.  
The inflatable sumo body suits are loosely fashioned after the Japanese sport in which massive wrestlers meet in the center of a mat and attempt to push each other out of a circular ring. The American part version is conducted on a protective mat ring with padded suits. However, the lawsuit alleges that Celaida fell backward, hitting her head three times against the ground outside the mat, the Miami Herald reported.
This is not the first time an injury allegedly suffered during a sumo event has led to a lawsuit.
In 2007, a Colorado woman on a company retreat sued the makers of an inflatable sumo suit after she fell backwards and hit her head and suffered severe brain damage. Jurors awarded her $2 million in damages, the Miami Herald reported.