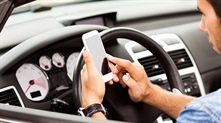 As Florida's ban on texting-while-driving goes into effect today, at least one lawmaker, State Sen. Maria Sachs, is calling on her colleagues to strengthen the law already.
According to The Miami Herald, Florida's texting-while-driving ban took five years to pass through the state government and become law. Under the current texting ban, a police officer can't pull over a driver who is texting while driving; the distracted driving violation can only be a secondary offense. That means that the driver would have had to commit some other traffic offense to incur any texting-while-driving fines.
And even then, the fines are not that strong. The Miami Herald reports that the first offense for texting-while-driving is $30 and the second offense is $60.
Based on our other reports, these penalties pale in comparison to a state like New York, which has some of the toughest penalties for distracted drivers—meaning those caught texting-while-driving— in the country. 
In the past few months, New York lawmakers have passed laws that impose severe penalties on drivers who are caught texting behind the wheel. The state enacted the laws after studies and data revealed that texting-while-driving is causing an increasing number of auto accidents that result in serious injuries or death for motorists, people in vehicles impacted by a distracted driver, and pedestrians, too.
The Miami Herald reports that texting-while-driving caused at least 189 auto accidents in Florida in 2012, citing data from Florida's Dept. of Highway Safety and Motor Vehicles.
Stronger Laws In Effect In New York
In New York, according to our reports, texting-while-driving can result in a driver's license suspension for younger or new motorists. More experienced drivers can incur five penalty points on their license, too. Also, the state has enacted stiffer fines against motorists who are caught texting-while-driving.
In the past few weeks, New York State Police have also dispatched special towering SUVs that can look down and into a vehicle to see if a driver is using a cellphone or smartphone while behind the wheel.
The Miami Herald reports that State Sen. Maria Sachs believes Florida's laws aren't much to deter drivers from texting-while-driving; she is proposing a bill today that would create tougher penalties. Under her bill, texting-while-driving would be a primary offense. It enables police to pull over drivers caught using phones for texting while behind the wheel.