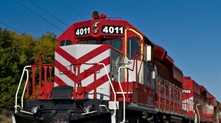 The man killed earlier this week when a rail car jumped the tracks near a SunRail station construction project has been identified as the train's conductor.
According to The Orlando Sun-Sentinel, the 36-year-old man was outside the last car of the train when it suddenly ran off the tracks. The conductor was acting as a spotter and the last rail car was hauling gravel to be used in the construction project, which was near Pompano Beach, Fla.
When the car jumped the tracks, it overturned and sent the conductor to the ground. He was soon quickly pinned under the rail car, the contents of which, the gravel, buried him. He was pronounced dead at the scene of the accident and a crane had to be summoned to lift the car off the man so he could be removed from the scene, The Sun-Sentinel reports.
Authorities continue to investigate how the rail car jumped the tracks. Initial findings revealed that the rail car weighed about 189,000 pounds when it left the tracks and tipped over.
The SunRail station near Pompano Beach was under construction at the time of the accident and was nearly complete, The Sun-Sentinel reports.