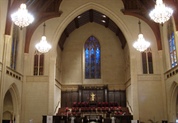 A pastor in Broward County is facing charges that he allegedly molested a young girl in his congregation.
According to a report from The Miami Herald, investigators with the Broward County Sheriff's Office allege that Maher Jair Ortega-Estevez lured a young girl in his congregation back to his apartment in Deerfield Beach and fondled her in his bedroom there.
Ortega-Estevez was assigned as a "volunteer leader" at Assembly of God Bethlehem Ministry in Hollywood, Fla., according to The Miami Herald.
The sexual assault allegedly occurred when the young girl was visiting the pastor's home with her family. After the alleged assault, the girl reported the attack to her parents who then called police to investigate, according to The Miami Herald.
Investigators are now trying to determine if there are more victims of the same pastor in Broward County. Based on our previous reports, once one victim comes forward with accusations of sexual abuse against someone in a position of power or authority like Ortega-Estevez, others are likely to come forward.