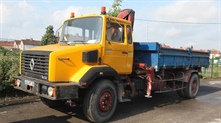 A member of a Florida road construction team was killed recently after the driver of a dump truck at the job site failed to see the man and hit him.
The construction crew was working on the Crosstown Expressway in Tampa, Fla., in late November when the accident occurred, according to an ABC News report. Authorities report that the man killed was on the ground working behind a dump truck at the time of the accident.
The driver of the dump truck allegedly did not see the man behind the truck and, upon reversing the truck, struck the construction worker. The worker sustained serious injuries as a result of the collision with the dump truck. He was rushed to a nearby hospital but succumbed to his injuries a short time later, ABC News reports.
Police investigating the incident have determined it to be an "industrial accident," but such incidents are known for happening far too often around Florida.
As Florida undergoes another reconstruction and housing boom, new roads are sure to be needed and road crews are out on Florida's dangerous highways year-round.
Every year thousands of Floridians are seriously injured or killed in workplace accidents. In 2012, alone, our recent reports show that more than 200 people died in workplace accidents in Florida.