A roofer in Florida slipped and fell to his death while working on a new house in Flagler County, Fla., this week.
According to FlaglerLive.com, the 43-year-old man was working on a roof at a new construction site in Plantation Bay at the time of the accident on Monday morning (Oct. 28). The roofer was unloading tiles from a pallet onto the roof—which is where he was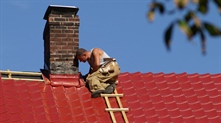 working at the time of the accident. As he was unloading the tiles onto the roof, he slipped and fell to the ground.
A coworker at the scene attended to the fallen roofer and called 911 for help. The roofer was pronounced dead at a local hospital later that morning, according to FlaglerLive.com.
The report also notes some statistics on the dangers posed by roofers and construction workers, especially in Florida. Although workplace accident injuries are declining since the housing bust in the middle of the last decade, Florida is reportedly undergoing another housing boom and that means injuries are on the rise. Last year in the state, a total of 209 workers died in accidents on the job. Slip and falls, such as the incident this week, are responsible for about 544 workplace deaths nationwide.