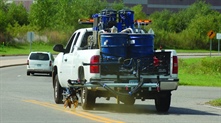 A Florida man died after his SUV slammed into the rear of a truck parked at a construction site last week.
According to The Ocala (Fla.) Star-Banner, the 35-year-old man was driving along Maricamp Road in Ocala during the early morning hours of Thursday, Oct. 24, when he suddenly struck the back of a flat-bed truck stopped in a road construction zone. The driver was pronounced dead at the scene. It took several hours to clear the eastbound lane of that road, which reopened at 6:30 a.m. Thursday.
The truck, which was being employed as a road striper, a specially equipped vehicle that paints the required lines on the roads. Photos taken by The Ocala Star-Banner show that the truck has an illuminated sign that features an arrow pointing to another lane to help ensure that drivers avoid such accidents.
Before crashing into the back of the construction truck, the ill-fated SUV driver reportedly ran over a cone before colliding with the truck. The SUV sustained severe damage from the accident, which left the construction truck with a pair of flat tires and damage to the rear.
Two workers near the truck, who were not injured in the accident, called 9-1-1 after they heard the crash.