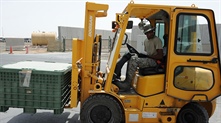 A worker at a marina in Hernando Beach, Fl., recently had both his legs severed after a boat forklift fell on him.
Hernando Today reports that the 54-year-old man involved in the accident was standing on a dock at a boat ramp for Blue Pelican Marina when a boat forklift overturned and fell on him. He was pushed into the water and pinned against a fence.
When the forklift toppled onto the marina worker, his legs reportedly were severed by the forks of the truck. Emergency crews worked quickly to get the forklift off the man and he was rushed to a local trauma center via helicopter for treatment of his injuries. He was listed in critical condition following the accident, according to Hernando Today.
Based on details already gathered in the investigation into how the forklift toppled in the first place, people told authorities and Hernando Today that the man and other workers were completing work on the private boat ramp for Blue Pelican Marina. The forklift that was involved in the accident was being used to take measurements for the boat ramp's construction.
This is just one of the many incidents that happen across Florida, and the U.S., in which a construction worker is injured or killed on a job site. In many accidents reported at construction sites, it is found that safety measures were overlooked or ignored, which inc