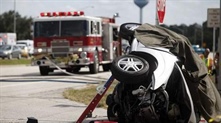 A husband and wife en route to their Florida home recently were killed in a head-on collision with another car.
According to a report from PressRepublican.com in Lakeland, Fla., the couple was traveling on US-27 when their vehicle was struck by another car. The driver's side of each vehicle collided in the crash. The offending vehicle was traveling north, while the couple's car was heading south.
At the scene of the accident police reported that the offending car head jumped a curb prior to crashing into the car with the married couple inside and sending it tumbling across several lanes of highway. The husband was pronounced dead at the scene, PressRepublican.com reports. The wife eventually succumbed to her injuries at a nearby hospital.
Thousands of similar accidents on Florida's dangerous roads and highways result in hundreds of deaths annually, and motorists face numerous threats to their safety. These threats extend from the dangerous highways to the other motorists occupying them. Based on our reports, intoxicated or distracted driving is leading to an alarming rate of fatal accidents in Florida, as well as nationwide.