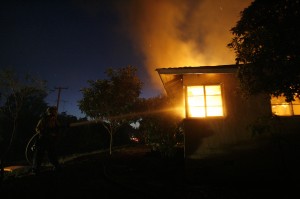 An Okaloosa County, Florida, jury just returned a $14.8 million verdict over the death of one man and a woman's severe injuries that have been blamed on a gas explosion in their home.
The blast occurred over four years ago on November 19, 2009 at the home of Michael R. Blanchard and Faye Boroughs. The couple was renting the residence at 217 Calhoun Avenue in Destin, Florida. A natural gas explosion ignited the laundry room in the house, which burned Mr. Blanchard over more than 98 percent of his body.
Three weeks following the blast, Mr. Blanchard died as a result of his injuries. Ms. Boroughs also suffered serious burn injuries, which affected just about 33 percent of her body; she remains permanently disfigured. The couple's three-year-old son was home at the time of the blast and continues to suffer from psychological injuries.
The family's attorneys showed that Panhandle Plumbing, Inc. and Andrews Cooling & Heating, Inc. were responsible for the blast, introducing evidence that gas safety codes were violated and that the two firms neglected to sufficiently train their technicians.
Evidence produced at trial specifically revealed that the explosion occurred after Panhandle Plumbing added a gas line that was improperly labeled and that also lacked a safety shut-off valve in the laundry room. Following the non-permitted gas line installation, a new gas dryer was bought from and installed by Andrews Cooling & Heating, Inc. Andre Cooling & Heating did not install the dryer in accordance to safety code provisions and the manufacturer's installation instructions.
After the original homeowners moved out of the house, their gas dryer was removed and was replaced with the couple's electric dryer. The morning of the explosion, Ms. Boroughs turned on the furnace. This led to natural gas escaping through an uncapped gas outlet into the laundry room. The gas accumulation then ignited; Mr. Blanchard and Ms. Boroughs were within feet of the focus of the blast.
According to a WJHG News Channel 7 report at the time, the explosion left the couple in critical condition. They both required life-flight to the University of South Alabama Burn Unit in Mobile.
The Okaloosa Sheriff's officials said the blast happened after gas-powered dryer was turned off. The blast blew out the garage door and demolished the home's front door, WJHG noted.
Following the explosion, the Okaloosa Gas District experienced increased calls over safety. Gary Long with the Okaloosa Gas District told WJHG, at the time, that people should be proactive; "Once a year you should have your appliances inspected"; and be aware of the appliances in the home that are gas-operated, especially gas fireplaces and outdoor gas-powered appliances. If you smell natural gas, the area should be evacuated and 911 or the local gas company should be called, noted WJHG.
Mr. Blanchard was 49 and Ms. Burroughs was 40 at the time of the explosion, WJHG reported.