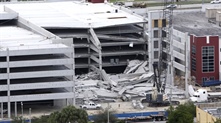 A construction worker who suffered serious injuries following the deadly partial collapse of a parking garage in Florida last year has sued the builders for negligence.
Law360.com reports that the worker and his wife claim that he now suffers from post-traumatic stress disorder and other injuries because of that incident, which happened last October. His lawsuit against M.A.R. Contracting Inc., MEP Structural Engineering and Inspections Inc., engineers Bliss & Nyitray Inc., architects Harvard Jolly Inc., Sims Crane & Equipment Co., and several other subcontractors seeks damages for negligence and gross negligence.
The man says he was 5 feet away from the collapse that day last year. While he survived, four other co-workers died. The families of those who lost their lives in the collapse of the parking garage reached settlements earlier this year, Law360.com reports.
In other lawsuits related to this collapsed structure, those who were injured or died claimed a crane accident several days before the collapse should have stopped work at the parking garage. The garage was under construction in Doral, Fla., to serve as a parking facility for a campus of Miami Dade College.
The man filing this latest lawsuit was employed as a plumber on the construction project. He said that following the crane collapse two days earlier, that particular section of the parking garage construction site should not have been reopened. His lawsuit said that precast concrete parts were not secured to the building properly and that led to the collapse, according to Law360.com.