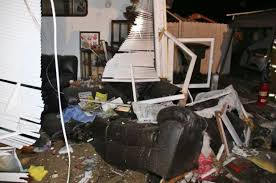 Five people were injured when an SUV crashed into a home in Pine Hills, Florida.
According to police, three people were taken to a nearby hospital while two others were treated at the scene. The crash happened around 1 p.m. on Tuesday.
The accident occurred when the driver hit the accelerator instead of the brakes while attempting to pass another vehicle, MyFoxPhilly reported. The mistake caused the SUV to jump the curb and crash into the house. The SUV finally came to a stop just inches away from an elderly woman who was in the home.
Police said the driver and the passenger in the SUV were transported to the hospital, along with one of the home's occupants. While names and ages were not released, MyFixPhilly reported that some of the injured included children. The injuries were not life-threatening. Five other people who were inside the house were uninjured.
Troopers with the Florida Highway Patrol continued to investigate the cause of the crash into the evening. The front of their home sustained heavy damage. The American Red Cross assisted the family in finding temporary housing, MyFoxPhilly reported.