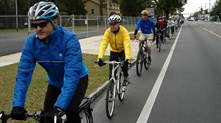 A recent fatal hit-and-run crash involving a couple on a tandem bicycle near Clearwater, Fla., has underscored the dangers bicyclists face on roads in the Tampa area.
According to Tampa Bay Times, Florida's roads are the most dangerous in the country for people traveling by bicycle. In 2011, there were 125 fatalities among bicyclists in the state, based on data from the National Highway Traffic Administration. That's the most among any state in the U.S.
In Florida, Tampa Bay Times reports, Tampa's roads are known as the most dangerous, especially for people moving about on bicycles. These dangers are underscored by a recent crash on the Clearwater Memorial Causeway.
Tampa Bay Times reports that a boyfriend and girlfriend couple were riding their bikes uncharacteristically on the Causeway when they were hit by a motorist. That motorist allegedly left the scene of the accident and has since admitted to authorities that he does not recall hitting anyone.
The couple involved in the accident was riding a tandem bicycle at the time they were hit.  The accident destroyed the bicycle and killed the boyfriend in the couple. The man's girlfriend was in a coma at the time of the Tampa Bay Times report last week. Both victims were in their mid-20s.
The father of the man killed in the accident told Tampa Bay Times that his son wore an anklet containing identifying information in the event something tragic would happen to him while riding his bicycle. The man allegedly got the anklet after moving to the Tampa area and hearing about how poor conditions were for bicyclists.