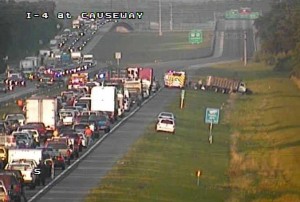 One woman was killed yesterday when a dump truck plowed into an oncoming vehicle after crashing through a median guard rail on Interstate 4 in Volusia County, Florida. State troopers say the woman was in the car that was struck by the dump truck.
Logan Cool, 32, of DeLand, was pronounced dead at the scene of the crash, which occurred around 7 a.m., Monday. Four others, including one child, were taken to the hospital with non life-threatening injuries, ClickOrlando.com reported.
Westbound I-4 around the St. Johns River Bridge was closed for about five hours following the crash, as highway crews cleared the wreckage, according to the Associated Press (AP).
The Florida Highway Patrol (FHP) said the collision occurred when Franklin Ramirez, 51, lost control of the dump truck he was driving after a tire apparently separated from the vehicle. The dump truck crashed through a guardrail in the median of the highway, striking two vehicles in the westbound lanes, ClickOrlando.com reported.
Logan was driving one of the westbound vehicles. The second westbound vehicle, a pickup truck, was sideswiped by the dump truck. Four occupants of another car were injured when the driver swerved to avoid the dump truck and crashed into the guardrail, according to ClickOrlando.com.
The FHP told ClickOrlando.com that 60 gallons of fuel spilled onto I-4.
Monday's accident was the fifth fatal crash in Central Florida this month, ClickOrlando.com reported.