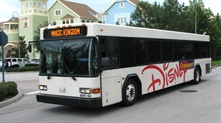 A Disney World employee was killed; when a bus transporting tourists from Orlando International Airport rear-ended her car. The bus driver was not hurt, but two bus passengers were injured.
The Florida Highway Patrol said the August 17 accident occurred around 3:25 p.m. when the bus, a Disney Magical Express operated by Mears Transportation, struck the female employee's 1996 Buick, which had come to a stop in Epcot Center Drive's left lane prior to the collision, the Orlando Sentinel reports.
The road was closed for several hours during the investigation.
Three dozen people were aboard the bus; they were traveling from the airport to Disney resorts. The two passengers with minor injuries were taken to Florida Hospital Celebration Health for treatment. The woman was pronounced dead at the same hospital, according to the Sentinel.
Investigators Interview Passengers
Investigators interviewed the bus passengers and examined the Buick to determine if a mechanical defect had caused the car to stop. Florida Highway Patrol spokeswoman Sgt. Kim Montes said investigators would also try to ascertain the bus's speed at the time of the accident. Montes said a crest in the road near the accident site might have prevented the bus driver from seeing the stopped car until it was too late to swerve out of its way, the Sentinel reports. The bus driver applied the brakes but couldn't stop in time, Montes said.
A statement from Disney World described the 63-year-old Bain as a cast member at one of its resorts. Disney offered condolences to her family and said the company is cooperating fully with the investigation, according to the Sentinel.