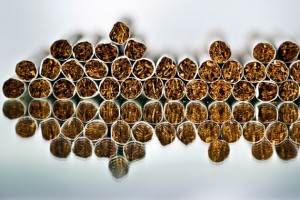 For the 8th time in seven years, the Supreme Court has denied reviewing tobacco verdicts in Florida. Scotusblog.com, the blog of the Supreme Court, writes that this time around tobacco manufacturers asked the court to review 10 petitions in an effort to overturn individual damages verdicts that total more than $64 million. Companies filed all of the petitions on March 28th and raised questions about violations of constitutional due process. The request was denied by the Court without comment or noted dissents.
The lawyers involved agreed that two cases among the 10 filed were preferred for Court review. The awards for one of these cases was $600,000 and the other had verdicts of $27,500 and $7,676. Other cases had much larger verdicts, as high as $5.5 million for compensatory damages and $20 million in punitive damages. Compensatory damages from the 10 cases totaled to $13.4 million and the punitive damages totaled $51.6 million.
There has been a long-running courtroom battle between Florida smokers, their heirs and major tobacco companies, and the Supreme Court has continually chosen to not be drawn in, Scotusblog.com reports. The recent cases are part of "Engle litigation"; these are thousands of lawsuits that are believed to be easier to win against tobacco companies due to the original court-created plan about how the cases would be tried. The original Engle case was filed by six individuals in 1994 alleging that eight separate claims of wrongdoing by tobacco companies. Among other things, they accused the companies of fraud and alleged that cigarettes are dangerous due to flawed design.
The Engle started out as a nationwide lawsuit filed on behalf of all smokers who died or became ill from smoking-related diseases. It was reduced to a class action lawsuit representing smokers in Florida and then branched out into thousands of individual cases.
In the first case, Florida courts created a plan that would develop findings of fact and findings of legal liability for all smokes and for all types of cigarettes that would be binding in later phase, Scotusblog.com writes. Questions of liability towards three class representatives and a question of punitive damages for the entire class would be decided in the second round and the third round would involve individual cases. The original Engle jury awarded $145 billion in punitive damages to the class. The Florida Supreme Court set this award aside. During the third-round when individual cases were being tried, the original jury's findings were binding.
After the state's supreme court decision in 2006, more than 9,000 lawsuits were filed. Since then, tobacco companies have tried multiple times to get the court to review the Engle case and "Engle progeny" lawsuits without success.