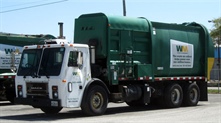 A husband and wife on the way back from the grocery store on their 2006 Ultra Classic Harley Davidson motorcycle were killed recently in Lakeland, Fla., after their motorcycle collided with a garbage truck.
According to TheLedger.com, the fatal accident occurred on Saturday afternoon (Dec. 7) after the couple had just left a Publix Supermarket on Lakeland Highlands Road. As the couple traveled south on the road, a garbage truck owned by Republic Services crossed in front of the Harley Davidson.
Despite a desperate maneuver attempted by the 48 year old driver, the motorcycle hit the driver door area of the garbage truck, separating the couple and causing them to suffering fatal injuries, TheLedger.com reports.
The wife, 36 a passenger on the back of the Harley Davidson, was ejected from the bike and landed underneath the garbage truck. Her husband was found near the motorcycle in the middle of the road's intersection. Both victims were pronounced dead at the scene of the accident.
The driver of the garbage did not suffer any injuries.
"I felt kind of helpless," one witness told The Ledger.com. She and her husband came upon the scene shortly after it happened. Her husband helped to direct traffic. She went on to say, "I think we saw a little more than we expected to see."
According to deputies, a portion of Lakeland Highlands Road was closed for 3 hours and 45 minutes after the accident.