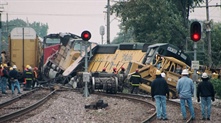 A construction worker employed by SunRail was killed Thursday morning when part of the train on which he was riding derailed, tipped over and pinned him underneath, burying him in gravel that the train was transporting, along with other construction materials.
According to The Orlando Sun-Sentinel, the worker was at a SunRail construction site in Seminole County near Sanford. The construction project was near the SunRail station. The worker who died in the accident was standing on the train's rear car.
When the cars overturned — four of the train's 10 cars jumped the tracks during the incident — the construction worker was thrown to the ground and partially pinned. The rest of his body was buried in aggregate gravel and he died at the scene. The Sun-Sentinel reports that a crane was supposed to be brought in today to lift the train car so the man can be removed.
This is just the latest accident to have seriously injured or killed a construction worker in Florida.
We report routinely on construction site accidents in the state. Among our many reports, workers often sustain life-threatening or fatal injuries when safety measures are overlooked or ignored.