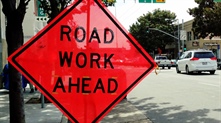 A road construction worker in Clearwater, Fla., has suffered serious injuries after she was struck by a vehicle while working recently.
WTSP-TV reports that Chiquita Reed, 25, was working along Belcher Road in Clearwater late last month when a car travelling through the construction zone ran through a barricaded area and struck her. The report notes that the car collided with the piece of equipment that Reed was working on at the time, and that the impact of the car hitting that equipment may have saved the woman's life. The report did not name what equipment she'd been using at the time of impact.
Reed has been working road construction for several months. After the accident she was awaiting surgery to repair a broken jaw, leg, rib, and shoulder, all injuries she suffered as a result. The driver is currently facing charges for careless driving.
The owner of a road construction outfit told WTSP-TV that accidents like this are far too common, especially in Florida. Often, workers in care of their safety must focus on both their job — which often is dangerous itself — and motorists passing through the construction zone.
As we've reported, distracted driving is on the rise, leading to escalating numbers of auto accidents, as well rising reports of injuries and deaths suffered in those accidents.