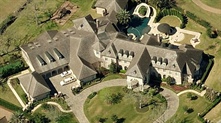 A construction worker who fell from scaffolding while working on a mansion remodel alleges the person who hired him is responsible for his accident and injuries.
TMZ.com is reporting that professional wrestler/actor John Cena is named as the lone defendant in a case in which a construction worker fell from scaffolding and was injured badly enough to be unable to work.
Cena allegedly hired the construction team and provided them with scaffolding so they could work on his mansion in 2010. The construction worker says the scaffolding that Cena provided was defective and damaged and caused him to suffer the fall, according to TMZ.com.
The construction worker says that it was Cena's responsibility to ensure that the scaffolding was safe as they worked on his home. He is seeking more than $15,000 to cover his injuries and pain and suffering, according to TMZ.com.
This is just one case among thousands every year involving injuries suffered by construction workers while at the job site. Often, when a construction worker is injured, it is because safety precautions are often missed or ignored, raising the risk of serious injuries to anyone who enters the job site, according to our previous reports.