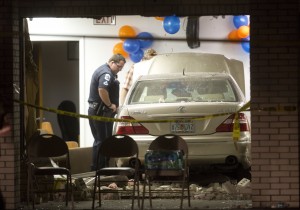 A car crashed through the wall of a church in Fort Myers, Florida, during Easter Sunday services, injuring about two dozen people, police said.                                                                            
Nearly 200 people were attending the service at the Second Haitian Baptist Church when, at about 8 p.m., a Lexus sedan plowed into the building, CNN reports. The driver of the car told police her brakes failed as she entered the church parking lot.
Parishioners, using vehicle jacks, teamed up to lift the car so they could get to those trapped underneath.  Churchgoer Nicholas Plancher told television station WINK that people "freak(ed) out … [t]hen we start pulling people under the car. Some of them – some of them were hurt pretty bad." Worshippers tended to those who were hurt until help arrived.
The driver said that as she was looking for a parking spot, her car's brakes malfunctioned and the car drove straight into the building. Police Lt. Victor Medico said authorities were treating the incident as a "very unfortunate accident rather than a criminal act," but they are continuing to investigate and "civil traffic violations may be forthcoming," according to Reuters. 
The Associated Press reports that 18 people were taken to Lee County hospitals for treatment and that none required surgery. Although the car drove through an exterior wall, authorities do not believe the building is in danger of collapsing.