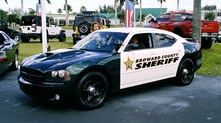 Police and road safety officials were out in full force this past weekend as they conducted a checkpoint in the Lauderdale Lakes area on the night of Friday, Nov. 22.
According to a report from The Orlando Sun-Sentinel, the checkpoint was held from 8 p.m. until midnight on Friday.
In addition to looking for drunk drivers and those under other influences, authorities were also on the lookout for aggressive drivers and distracted drivers. The Sun-Sentinel also notes that police were looking for motorists that did not adhere to the "move over law" that mandates drivers change lanes to make way for speeding police or emergency vehicles en route to the scene of an emergency. Drivers also are directed to slow down considerably when passing an accident scene.
Based on our reports, aggressive and distracted drivers are becoming an increasing problem on Florida roadways.
Distracted driving was responsible for more than 4,500 auto accidents on Florida roads in 2012, based on data from the Florida Dept. of Highway Safety and Motor Vehicles.
In Florida, impaired and drunk drivers cause about 40 percent of all fatal accidents. Between 2006 and 2010, more than 15,000 people were seriously injured in an accident in which alcohol was a factor.