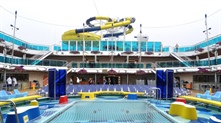 A 6-year-old boy from Florida has died after drowning in a pool aboard a Carnival Cruise Lines ship this week.
Associated Press reports that the boy was at a midship pool with his 10-year-old brother at the time of the accident. Authorities say that no foul play is suspected in the death but the report does note that cruise ships like the Carnival Victory liner are not required to have a lifeguard on duty at swimming pools. The Miami-Dade Police Department is currently investigating the drowning.
Despite efforts to revive the 6-year-old, he was pronounced dead at the scene. He was one of more than 3,000 people aboard the Carnival Victory ship at the time. The cruise was in the final leg of its four day Caribbean journey, according to AP.
Carnival Cruise Lines says that it is unaware of any other incidents in which anyone has drowned in a pool aboard one of its ships.
Although a drowning may be rare aboard a cruise ship, accidents and the risk of injuries or death is not uncommon. According to our reports, thousands of people are put in harm's way every year aboard cruise ships.
Earlier this year, in fact, a fire in the engine room of the Carnival Triumph cruise ship put the passengers and crew aboard the vessel in peril, stranded at sea for several days with very little food and fresh water and no electricity, based on our reports.
Of course, in January 2012, at least three people died and dozens more were missing after the Costa Concordia cruise ship ran aground on rocks near the Italian coastline.