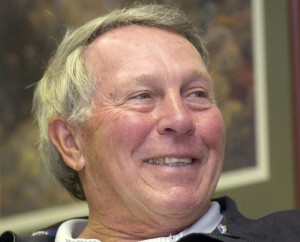 Brooks Robinson, a former Major League Baseball (MLB) star and baseball Hall of Famer, is planning to bring a lawsuit against the Seminole Tribe of Florida over injuries he alleges to have suffered after falling at the tribe's casino.
The lawsuit, which asks for nearly $10 million will be challenging the damages cap in Florida's gaming contract with the tribe, according to Robinson's attorney, Law360 wrote. Although Robinson is asking for a little under $10 million from the tribe at this point, the damages figure is likely to increase once the lawsuit for the 2012 accident is filed. Robinson fell from a stage that was not constructed with a protective railing.
At issue is that the 2010 gaming contract between the state and the tribe contains a liability limit of $200,000 for individual, or $300,000 for aggregate, Law360 reported. The limits are similar to laws for Florida municipalities and the state of Florida.
Late last year, Robinson (76) suffered three fractured vertebrae, a broken shoulder blade, and bleeding in the brain, according to his attorney. What's more, Robinson was the second person who fell of the same stage that night, according to Law360. Just prior, baseball player Paul Casanova fell off the same stage, wrote The Miami Herald. Robinson fell six feet from an unsecured stage at a charity event at the Seminole Hard Rock Hotel & Casino near Hollywood. Robinson was sitting high up on a three-tiered stage during a player recognition and auction event for Joe DiMaggio's Children's Hospital. It seems that he attempted to rise from his chair, leaned back against a curtain with no wall or railing behind it, and fell to the ground, Law360 reported.
Robinson's attorney said he will be impacted by these injuries for as long as he lives and accused the Seminole Tribe of hiding behind sovereign immunity, wrote Law360. Robinson's attorney also noted that his client may not collect sufficient money to cover his medical bills, The Miami Herald wrote. As a result of his fall, Robinson still suffers from bleeding on the brain, has spinal cracks, has lost five inches in height, and requires constant care.
Robinson has lost almost $3 million in income to his family and his charities, according to his attorney, The Miami Herald wrote; the current cap comes nowhere near to covering that amount, his attorney noted. Prior to the accident, Robinson attended many paid appearances at memorabilia shows and on television and radio, He also worked as a part-owner in several business ventures. He has been forced to limit his appearances, suffers chronic back pain, has "slowness in his thought process and speech" and is "always exhausted," his attorney wrote. The attorney also feels that the stage was improperly erected and that the curtain gave the illusion of support that was not there.
Robinson spent his 23-year career with the Baltimore Orioles and was nicknamed "The Human Vacuum Cleaner" for his unmatched third base defensive play. Robinson, considered among the best third baseman in history, won 16 consecutive Gold Glove Awards in his career. Law360 wrote.
Florida Governor Rick Scott just began negotiations on a new agreement with the Seminole Tribe to replace the current contract, which is up next year. Under the agreement, the tribe pays millions annually to the state for almost full exclusivity on casino card games and slot machines, according to Law360.